A group of alumni by set and individual recently handed over refurbished teaching laboratories, classrooms and bus to the Department on 24th February 2022.
The Department is grateful to the following (1) GeoIfe set 1998 admission (2) GeoIfe Set 2001 admission and Mr. Salami Ibidapo (an alumnus of the Department). Together, they renovated and refurbished the Classrooms F5. F13 and F17 as well as replaced the chairs
The GeoIfe Set 1998 handed over renovated classrooms F5 and F13 while the GeoIfe Set 2001 handed over refurbished classroom F17. Mr. Salami Ibidapo replaced the old chairs with new ones in the three rooms.
Classroom F5 has a seating capacity of 60 persons; F13 has a seating capacity of 72 persons while F17 has a seating capacity of 36 persons. The wall of each room is painted and the floor is tiled. The rooms are fitted with functional projector, remote-controlled projector screen, air-conditioners and newly purchased fans. These rooms are now ready for lectures and practical classes.
The mini-handing over ceremony was attended by the Deputy Vice-Chancellor (Academic), Prof. Mrs. Olubola Babalola; the Dean of the Faculty of Science , Prof. Isaac Olusanjo Adewale, the Vice-Dean, Dr. Mrs. Adedeji, Prof. Olorufemi and other staff and students of the Department.
In similar vein, the Department is grateful to a group of alumni (1989 to 1991 admission) sets who bought a new engine worth over 2 million naira for our fieldwork vehicle (Toyota Hiace – Hummer model). The vehicle was donated as part of the University Partnering Programme by the Joint Venture of Esso, NNPC and Shell.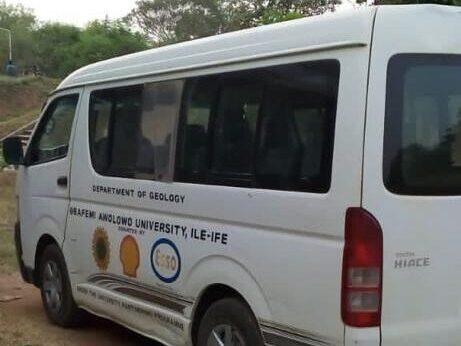 Views: 18945